God is longing to see a great harvest of souls come into His Kingdom. We would love to share His love and acceptance to those that unable to hear the Good News. However we need your help financially to increase the number of people experiencing the love of Jesus Christ, personally. We ask you to prayerfully consider partnering with us to share in the increased harvest we are about see manifest. The Bible says in 2 Cor 9:10,11;
For God is the one who provides seed for the farmer and then bread to eat. In the same way, he will provide and increase your resources and then produce a great harvest of generosity in you.
Yes, you will be enriched in every way so that you can always be generous. And when we take your gifts to those who need them, they will thank God.
We believe the Holy Spirit begins by giving you the desire to become a monthly partner. Then it is your responsibility to believe the promise that God provides seed for you to sow. We believe that as you respond to the leading of the Holy Spirit by becoming a monthly partner, not only will God provide seed for sowing, He will provide bread to eat (the necessities of life), and a great harvest so that you can always be generous. God is so incredibly good and His Word is filled with great promises that you can access by believing, speaking and taking action.
As a thank-you for becoming a monthly partner, we would like to send you a copy of Katherine's new book, "Speak Life" which will give you keys to seeing your relationships and circumstances miraculously transformed.
A personal message from Katherine
By partnering monthly with
Katherine Ruonala Ministries
you will freely receive Katherine's latest book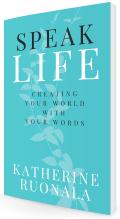 Partner with Katherine Ruonala Ministries