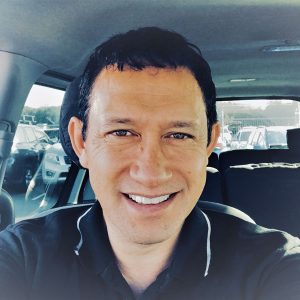 Video Testimony Transcript (scroll down to watch video)
Katherine: This is Ben and I am just so excited to hear his testimony. An amazing testimony, you need to hear this.
Ben: On the 12th of June 2016 I went to Glory City Church you actually called out, "If anyone has a blood disorder that you want to pray for them". So I actually went forward and Katherine and prayed. And I just felt a surge of heat go through my body. And look I've gone off, I am HIV positive.
Katherine; You were
Ben: Were, were, were. So anyway. I've been off medication before because that was so strong and the side effects were terrible. And I believe. But every time that I went off my medication I was in the hospital, maybe 2 months later. I have now been off my medication for 3 years since that day.
Katherine: And what has God been saying to you about HIV now.
Ben: Sorry?
Katherine: Like that blood test saying about your HIV status.
Ben: Oh, totally, totally healed!
Katherine: Did you hear that. There is no medication left in his body. It felt the wave of the Holy Spirit?
Ben: Yep that's right. It was heat, it was heat in my body.
Katherine: That's 3 years ago and still completely healed, completely clear.
Ben: Yep.
Katherine: I am celebrating with you. Nothing is impossible and that your testimony will encourage so many people. Wherever you're believing for. What would you tell people about whether they have been given a devastating diagnosis? What would you tell them?
Ben: It's a bit hard, but only because I've gone off my medication previously and I've gotten really sick. I would say if you know that you have received a healing. You have to run with it.
Katherine: What would you say to people who don't know they have received a healing but want to? What would you say to them?
Ben: That's hard too.
Katherine: Did you believe God would heal you? Did you have hope?
Ben: I had hope. I didn't know when because I had received prayer before and I wasn't healed. So it was really difficult.
Katherine: Even that's really encouraging cause there are a lot of people that been for prayer and then they've thought that "maybe that's not the will of God for me." So that's where I really want to encourage you. Even if you've received prayer multiple times before the Bible says that he came to heal all of our diseases. And so it does not matter what you're facing. It does not matter how many times you might have asked before. If you don't change your mind and believe that he alone has the words of life and you keep going after him. I really believe he wants to touch you too.
Ben: I will share something though. When I...
Katherine: Come here darling, this is his wife.
We are discussing something so beautiful. What do you think about your husband being healed?
Wife: A dream come true.
Katherine: Isn't it amazing.
Wife: Yes, phenomenal!
Ben: You might want to share about our children and even when I was sick with HIV. We are walking miracles because my doctor said you cannot have children.
Wife: And I physically cannot have children. I was told at 28 that I could not have children.
Katherine: Wow.
Wife: So when we got engaged we shared our stories, well actually before we got engaged we shared our stories.
Katherine: And he was HIV positive?
Wife: Yes. And so God's the divine healer and can override any doctor's message. So it's like well if we go into this we go into it with faith. And God actually told me before we got married, if I didn't engage the gift of faith throughout our marriage we would not last.
Katherine: Wow.
Wife: So, okay I have been called to be a woman of faith.
Katherine: And how many children do you have now?
Ben: 4
Wife: 4
Katherine: 4 kids! And how are they? Have any of them got HIV positive?
Wife: No
Ben: No
Wife: And I'm not.
Katherine: That's amazing!
Wife: We just stood on the promises of God so he knows that plans he has for us.
Katherine: And your not either?
Ben: Yes
Katherine: Hallelujah! Well, I want to encourage you. We pray that anybody watching right now. That you needing hope from America. We want to really encourage you even when hope deferred makes the heart sick. God wants to change his desire towards you. And Lord we speak healing right now in the name of Jesus Christ and we agree. Even others that are watching that have are HIV positive would be healed now in the name of Jesus. Just as you grab a hold of his goodness we speak life and healing into your bodies in Jesus' name.